There are many astronomical programs with a ASCOM interface 

in their application.
ASCOM is for many years the standard for astronomical programs for interacting between differend software programs and hardware.
Allmost all modern astronomical hardware equiptment has an ASCOM interface program.
FreeGo2 has an ASCOM driver, with these it is possible to control  a Telescope mount with a external program.
These most astrophotographic programs, are using special techniques like for instance, Dithering & guiding to get the most effort off their telescope.
Most off these programs has an scripting module, this is very usefull for remote observation and photographic use.
The FreeGo2 ASCOM driver is a software layer between the main program and  a  third (external) program.
The commands comming from the external program via the ASCOM driver to the FreeGo2 mainprogram, the ASCOM driver is translating the External command to a command fitted for FreeGO2 and passes trough, and visa versa.
Click on (any) picture to entlarge.
Before you can use the ASCOM driver you need to start the Freego2 program. In both programs the setup data (host and port) needs to be the same.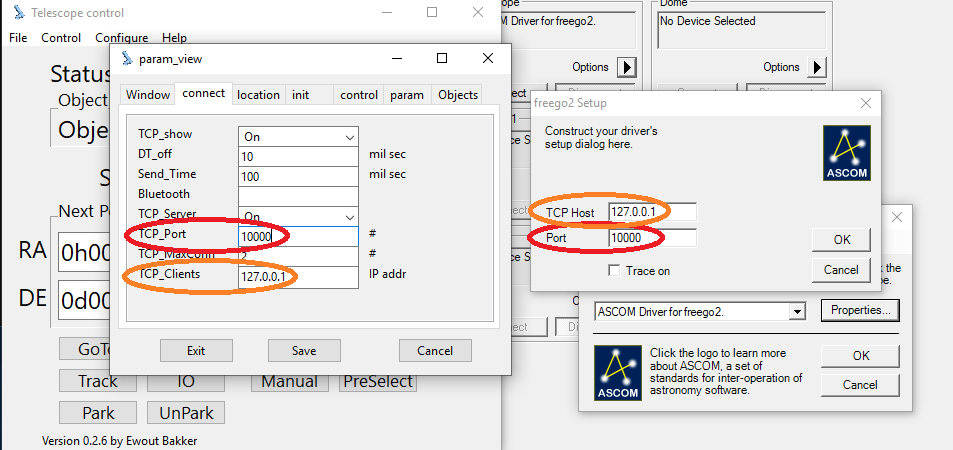 Here an example how the start the driver, for this example I start Maxim DL / telescope section ->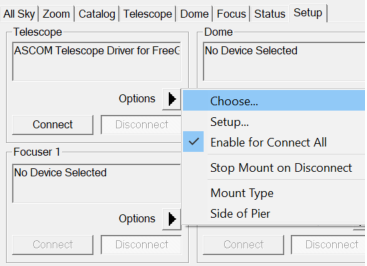 ->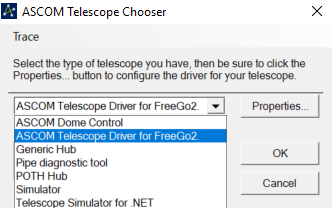 ->
There are many programs, at this time we could not test all of them, we did well testing on
--------------------------------------------------------------------------------------------------------------------------------------------------------------------------------------------------------------------------------------